Alumni
A brief overview of the Alumni Association.
The Alumni Association of Goodwill Christian College was formed in 2009 with the aim of keeping alive in the hearts of the Alumni memories of the College, its ideals and values and also to remind the College of its daughters who are scattered all over the world.
It also aims to strengthen the interaction between the College and its Alumni and to establish a mutually beneficial relationship that would provide a forum for career networking and mentoring to both the Alumni and the current students.
The Objectives of the association are as follows:
To promote effectively the welfare and interest of the College through its Alumni.
To support the vision and mission of the College and uphold its reputation as ambassadors of the College.
To organize and co-ordinate re-union activities of the Alumni.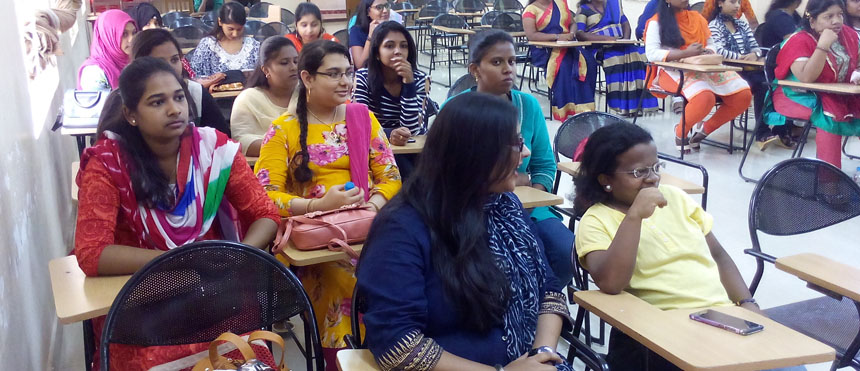 Contributions of the Alumni in the last five years:
The Alumni were encouraged to contributee generously to their Alma Mater.
The alumni sponsor Endowment prizes every year during the Graduation of the Outgoing batch
Given below are the contributions by the Alumni.
Mrs. Eshwari Richard from BA, Class of 2013 instituted a trophy for the 'Best student in Journalism' in memory of her beloved mother
Ms. Mohana Priya of B.Com, Class of 2013 instituted a trophy for the 'Best student in Civil Defence ' in honour of Dr. Gayathri, Lecturer in Botany and NSS Co- ordinator
Ms. Naila of BBA, Ms. Noor Siddiqua and Ms. Angel of BA, Class of 2017 and Afshan Tabassum of B.Com, Class of 2017 donated books to the College Library.
Mrs. Saadia Rehman, Lecturer in Commerce, and Alumnus- B.Com, Class of 2008 sponsored textbooks for a B.Com Student
Mrs. Asma, HOD of Commerce, , and Alumnus- B.Com, Class of 2003 instituted a trophy for the 'Best Student in Accounts' in honour of her father Mr. Abdul Azeez
Ms. Nikitha Sneha Priya, BBA, Class of 2016 instituted a trophy for the ' Best Dancer' of the outgoing class in honour of Ms. Gracy,Lecturer in Commerce
Ms. Ayesha Tasneem, BA, Class of 2018 instituted a trophy for the ' Best Outstanding Student in Arts ' in honour of her parents Mr. Chand Pasha and Mrs Naseem
Ms. Umme Sufiya , BA, Class of 2018 instituted a trophy for the ' Best Student in Literature ' of the outgoing Class in honour of her nephew Master Monhammed Faizan
Ms. Neethu , BA, Class of 2016 instituted a cash prize for the 'Best Student in Psychology'
Ms. Noor Siddiqua , BA , Class of 2017 donated Cash for the purchase of stop clocks in the Psychology lab.
Ms. Paveena, B.Com class of 2010 donated Rs 10,000/ for the College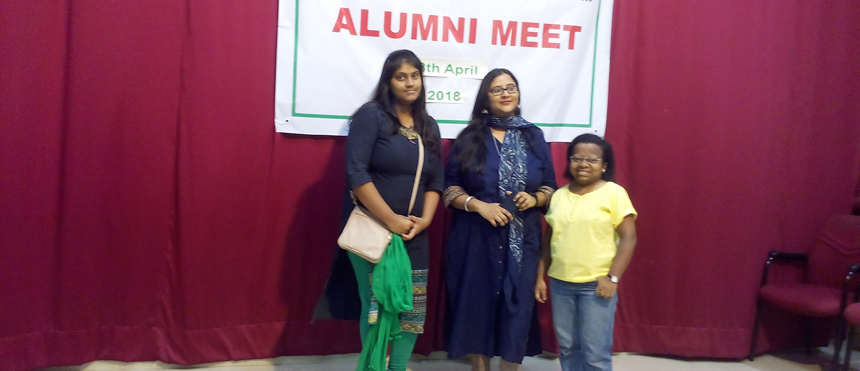 Alumni Occupying Prominent Positions.
Ms.Anusha Sheik, B.Com Class of 2016, based in Goa is one of the leading fashion designers in India. She has hosted many Fashion shows, notable among them is Runway Inspirations- A fashion show with a difference that involved Physically Challenged Children walking the ramp. She has also created her own designer brand ' Anushas' dealing with women and kids wear for all occasions
Ms. Shama Patel is a bestselling author.
Ms. Nishat Syed is Founder and owner at Naina Boutique and Nishat Creations.
Ms.Priyadarshini Kumerasan is a Creative Strategist at Yahoo.
Ms.Paveen is a Senior Analyst at ANZ Australia
Ms. Trupthi jaikumar is lead Cabin Crew at IndiGo Airlines
Ms. Cynthia madan is a lead Cabin Crew at Qatar Airways
Ms. Krishna priya is a Research & Media Analyst at Genpact
Ms. Sarah jemima works for Google.
Mrs. Thilini Glen—is professional counselor & Lecturer at Institute of Psychological Studies ,Sri Lanka
Ms. Vasavi -Senior Finance Associate at DXC Technology
Ms. Tasmiya Begum works as Make up Artist
Ms.Suman .K is a Financing Analyst
Ms. Meetu Sobhani is a Travel Auditor
Ms Sharon Rebecca works with Con –Centrix
Mrs. Lakshmi Thomas is an Asst Prof. In the Dept. of Journalism in Bangalore University
Ms. R. Gayathri works at Fitness Manager at Power World Fitness.
Ms. Deepu Sharmila is a teacher at 'Founding years of Learning'
Ms Saima ia a teacher at Wisdom International School.
Ms Daphni works as a teacher in Spectrum.
In addition to the above, many of our Alumni are pursuing higher studies and work in various corporate sectors.