INFRASTRUCTURE
Library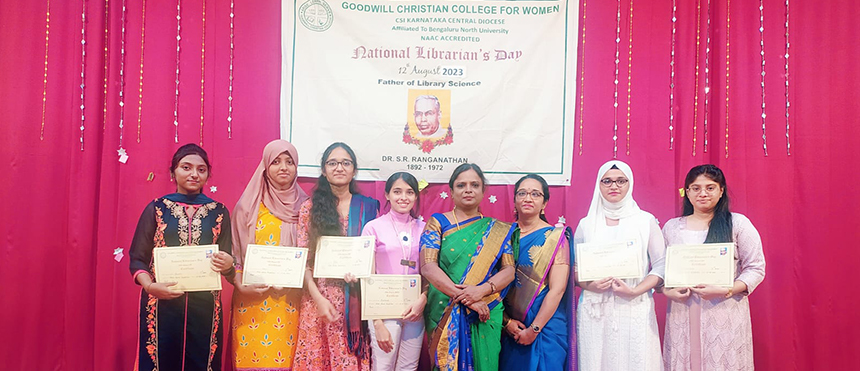 The college Library provides a very conducive atmosphere for reading and learning. The Library is well equipped with more than 10,000 books. It is accommodated in a well furnished hall, well lit and ventilated. It is patronized equally by the students and the staff. The College Library also has Broadband Internet connectivity. The various newspapers and magazines which are subscribed by the College Library are as under:-
| | |
| --- | --- |
| 1. Times of India | 1. Competition Success |
| 2. Indian Express | 2. PratiyogitaDarpan (English) |
| 3. Daily Excelsior | 3. PratiyogitaDarpan (Hindi) |
| 4. GLimpses of Future | 4. Education Wish |
| 5. The Hindu | 5. Sports star |
| 6. DainikJagran | 6. Education Digest |
| 7. Prajavani | 7.Junior Science Refresher |
| 8. Dinadanti | 8. Readers's Digest |
| | 9. Frontline |
| | 10. Outlook |
| | 11. India Today |
| | |
| | |
| | |
| --- | --- |
| 1. Journal of genetics | 1. Microbiology |
| 2. Current science | 2. Access to british library |
| 3. Resonance | |
| 4. Journal of bioscience | |
| 5. Indian journal of economics | |
| 6. International journal of economic issues | |
| 7. Prabhanbdam journal of management | |
| 8. Literary verse | |
Sports
At Goodwill Christian College for Women the sporting infrastructure is second to none. Our Physical Education staff are highly committed to fitness and wellness. They have vast experience in drawing out the best sporting instincts in students and getting all the students involved in what is a superb social as well as physical activity. Teamwork and sportsmanship skills are at the heart of the programme.
Laboratories
Science is taught as an experimental subject at Goodwill Christian College for Women. That means that students spend most of their time in the labs actively experiencing science, rather than passively having it demonstrated to them by the teachers. In our three brand-new state-of-the-art laboratories for Chemistry, Biology and Microbiology, all students learn how to design and execute their own experiments, record their findings and draw up scientific reports. The labs are equipped with the latest technological devices in order to support cutting-edge experimentation. The college also has a computer laboratory equipped with over 50 computers and internet connectivity.
Seminar-Hall
Seminar Hall is fully equipped with all audio visual equipments including multimedia projector. It has enormous sitting capacity. The seminar hall is used for delivering expert lectures, demonstration lectures and general purpose presentations. The Hall gives utmost importance to the function of dissemination of information amongst the students. The facility is also used for holding training workshops and Faculty Development Programmes.
Counselling cell
Counselling is the service offered to the individual who is undergoing a problem and needs professional help to overcome it. Counselling is tailored to suit the needs of the student. Students attending may have different needs in terms of number and frequency of appointments and this will be discussed so that the needs of the students are best met. The fact that the student is attending the service and the information that she shares with the counsellor during a session remains confidential. This means the personal details are not disclosed to anyone outside the service without due permission.